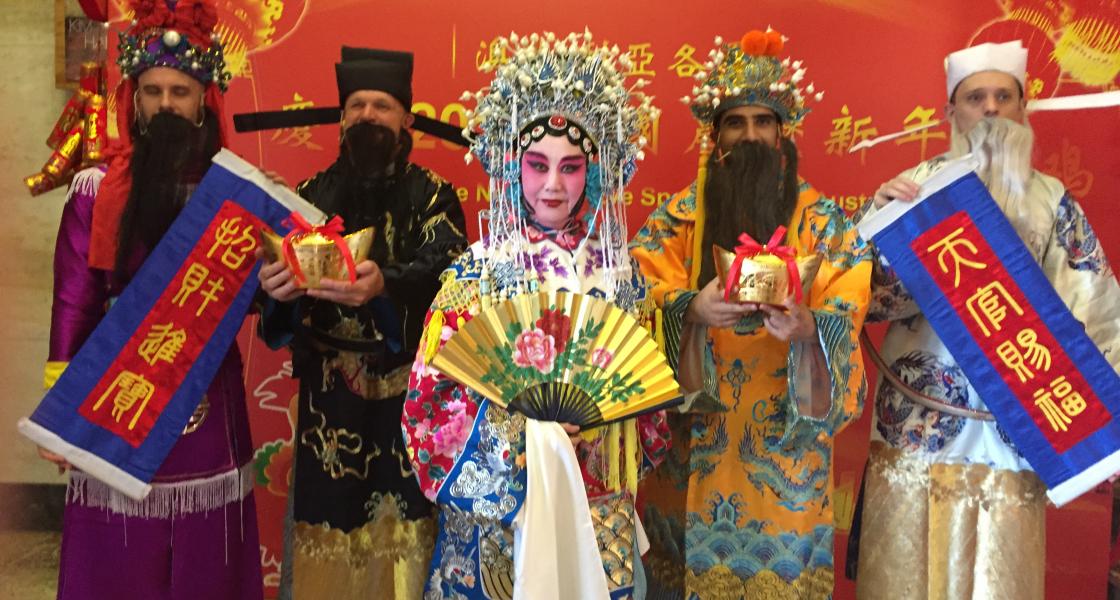 The Year of the Rooster 春晚 2017年
Sydney HSK Centre春节活动 2017年1月27日
悉尼汉语考试中心于2017年1月27日中国农历新年之际,在澳大利亚当代艺术博物馆参加了盛大的新春盛典。悉尼汉语考试中心的学生在活动中,参与表演了"中国传统京剧",汉语大会参赛选手演唱的中文歌曲在全场引起热烈反响。参加活动的学生均参加过2016年在北京举办的汉语大会,对学习汉语有着浓厚的兴趣。
悉尼汉语考试中心,通过参与这次活动,向活动现场的各界人士展示了汉语学习在澳大利亚的热度。也让参与活动的学生通过新春盛典,观看悉尼歌剧院和海港大桥的亮红仪式,感受中国传统农历春节浓浓的节日气氛。
鸡年大吉!
Sydney HSK Centre joined the 2017 Chinese Lunar New Year celebrations held at the Sydney Museum of Art in Circular Quay. Some of the HSK Centre's students along with other China enthusiasts from the Sydney area made there way to the celebrations to enjoy the traditional Peking Opera costumes coupled with various dances and Chinese traditional performances. There was a special appearance by one of our Chinese Language Competition contestants who sang a husky edition of the Chinese classic song.
It is always a pleasure to partake in this event and having many members from the Chinese Language Competition having the chance to meet up again. Finally, as the evening drew to a close, the celebrations were met with with an uplifting fireworks display over the harbour as the Sydney Opera House burst into a deep shade of red, ushering in the Chinese New Year.
Happy Year of the Rooster everyone!