Chinese Proficiency Test (HSK)
What is HSK?
The Chinese Proficiency Test (HSK) is a worldwide test of Chinese language. It is similar to TOEFL or IELTS. The HSK exam report is the only officially recognized Chinese language proficiency certificate for foreigners applying to study and/or work in China. The objective of the test is to assess the Chinese language proficiency of non-native speakers of Chinese. Sydney HSK Centre is the HSK exam Centre in NSW.
HSK levels and test structures
HSK is an international standardized Chinese language test to measure the ability of non-native Chinese speakers to communicate in Chinese in daily lives as well as academic and working settings. It consists of two independent parts: HSK written test and HSKK oral test. The HSK written test is comprised of six levels, from HSK Level 1 to HSK Level 6, and all of the tests include a listening and reading part, with Levels 3 and higher also including a writing section. The HSKK oral test is a standardized oral test that aims to test Chinese as second speakers' ability in spoken Chinese. It is the oral test of HSK, and HSKK is comprised of three levels of HSKK (Beginner), HSKK (Intermediate) and HSKK (Advanced), and the test taker's on-site performance will be recorded.
The YCT (Youth Chinese Test)is an international standardized Chinese language test, which is directed at examining non-native primary and secondary school students' ability to apply Chinese language in their studies and daily lives. It consists of four levels from YCT Level 1 to YCT Level 4.
 Advantages of HSK
All examination candidates will receive examination reports.
Certificate holders are exempt from Chinese language requirement at a corresponding level at Chinese educational institutions.
Certificates are a reference standard used by different enterprises, organizations and educational institutions in recruiting people for jobs for which Chinese language skills are necessary.
Certificates serve as an exemption of language testing for hiring decisions for positions requiring basic competence in Chinese.
Certificates serve as an exemption of language testing for international students to supply for Chinese University's scholarship.
Reports act as a reference to evaluate primary and secondary school's Chinese language programs.
 Exam Fee                         
| | |
| --- | --- |
| YCT L1/ YCT L2/ YCT L3 | $20 |
| YCT L4 | $30 |
| HSK L1 / HSK L2 / HSKK  Beginner | $35 |
| HSK L3 / HSK L4 / HSKK Intermediate | $55 |
| HSK L5 / HSK L6/ HSKK   Advanced | $75 |
When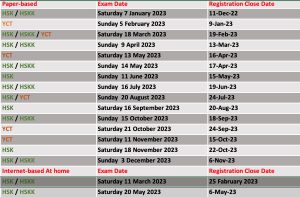 Registration
Register online at http://www.chinesetest.cn/or our website: www.hsk.com.au
Suite 510, level 2, 451 Pitt Street, Sydney NSW 2000, Australia
Email: info@hsk.com.au
Send us a message to find out more about HSK Examinations
THIS IS NOT A REGISTRATION FORM FOR THE HSK EXAMINATIONS